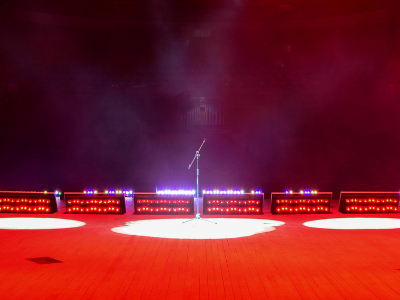 Secondary Theatre
The Secondary Division is one of the most active divisions within MTA. Each year, there are two regional one-act festivals (DramaFest) that pre-qualify schools to perform in the one-act festival at the Mississippi Theatre Association's Annual Festival. The Regional 10-Minute Festivals provide an opportunity for students to work with students from other schools to produce a 10-minute play in a 1-day period. The Individual Events Festival allows students to compete with acting and technical events in both solo and group competitions. Junior and Senior students are invited to participate in the College & University Auditions at the Annual Festival. This is a wonderful opportunity for students to meet with college and university representatives.
The division hosts continuing education/professional development workshops to assist teachers in teaching theatre arts throughout the season. CEU credits are available for attendance at the annual festival and for the workshops.
MTA hosts an email Listserv to connect theatre teachers from across the state. Subscribe to the list today to join the conversation. E-mail Executive Director, Stacy Howell, to be added to the listserv.
If you need assistance getting your theatre program off the ground or if you need advice with productions or your curriculum, feel free to contact one of the division chairs or the Executive Director. We are here and willing to assist you in making your program the best it can be!
---
MTA 2023 – Tupelo, MS – January 12-15, 2023
January 12 – 15, 2023 – Tupelo, MS
The Mississippi Theatre Association State Festival is a four-day event that includes college auditions, scholarship opportunities, one-act play festivals, theatre for youth festivals, individual events for high school students and adults, and workshops. MTA Festival is the one time each year that theatre-makers of all disciplines from across the state can gather together and celebrate each other's work. Join us for MTA 2023! Mississippi Does Great Theatre!
This is where you will find the school registration information for the 2023 MTA Annual Festival. The organizational school registration deadline will be due December 15! Purchase order numbers must be turned in at this time. There will be no refunds after the December 15 registration deadline.
This letter of introduction explains the opportunities available for school groups and theatre teachers for the upcoming theatre festival.
All students attending MTA State Festival must sign a Code of Conduct form. This is to ensure that all participants are aware of theatre etiquette and behavior expectations throughout the regional and state theatre festivals.
2023 Tupelo, MS Festival Space Video
Here is information on MTA's Ad Sales/Sponsorship Packages.
Resources for Junior & Senior Auditions
A video explaining what colleges are looking for in their top high school recruits at MTA.
David Carter, Theatre Department Chair at Mississippi University for Women gives pointers on how to create a portfolio for students auditioning for technical theatre.
This video walks auditionees through the process of marking sheet music for a live audition.
This video shows sample auditions for the MTA College & University auditions.
Monologue only – 60 seconds
Monologue + song – 90 seconds
$500 to a deserving high school senior who intends to pursue a theatre degree at a Mississippi college or university.
---
Individual Events Festival
The MTA Individual Events Festival is an excellent opportunity for actors and technicians alike to compete in both solo and group events. The format of IEs has changed to allow for more entries per student and per school. Please refer to the guidelines document for up-to-date information.

Here you will find the introductory letter for the MTA 2023 Youth Individual Events. Please review this information

Here you will find the information on how to register to participate in the Youth Individual Events. Please note there are changes from the past festivals as all preliminary rounds are moving to a virtual format. The final round of each event will still be hosted at the state festival.
Here you will find a quick reference guide to the 2023 Youth Individual Events rules and guidelines for the Youth Individual Event Festival events.
Individual event ballots for each event illustrate exactly what judges are looking for in student performers and technicians. Please refer to these ballots when students are preparing for the competition.
If you have any questions regarding the Youth Individual Event Festival, contact one of the division chairs or vice-chairs.
---
Ten Minute Festival
Join high school students from around the state in 3 Regional Ten Minute Festivals.
Ten Minute Festival Information and Registration
Registration for 2022 is now closed.

---
Junior/Senior College & University Auditions
Junior and senior high school students planning to pursue theatre in college are invited to participate in auditions for college and university programs at the MTA State Festival. Auditions take place on Thursday evening before the festival starts. Students have the opportunity to meet with college representatives throughout the festival at the college fair booths. Refer to the documents linked below for registration, rules, and resources for auditions.
Senior students who plan to major in theatre at an in-state college or university are eligible to apply and audition for the MTA Scholarship. One deserving high school senior will be awarded a $500 scholarship.
Make sure to have all auditioning juniors and seniors complete the college/university registration. This information will go to the participating college and universities.
Junior/Senior College Audition Rules
Here are the rules for the Junior/Senior College Auditions. Make sure to review this information so that you can be prepared for this opportunity. Information for MTA 2023 will be posted here on September 1.
Make sure to visit this link to mark your music appropriately for the Junior/Senior College Auditions.
Here is a link to a sample Junior/Senior College Audition.
If you, or one of your students, is interested in applying for the MTA Scholarship. Click this link for more information.


---
Regional DramaFest
Mississippi Theatre Association facilitates two Regional Drama Festivals each year. Each of these festivals is traditionally held in early December. The North Regional Festival (North DramaFest) is traditionally held at Mississippi State University and the South Regional Festival (South DramaFest) is traditionally held at the University of Southern Mississippi. The top placing performances of each regional festival advance to the MTA statewide theatre festival, traditionally held on Dr. Martin Luther King, Jr. weekend each year. Visit the links below for helpful information in preparing for DramaFest.
The MTA Secondary Festival Guidelines are guidelines for the one-act festivals at both regional Drama Festivals and the statewide theatre festival. Participants are encouraged to read these guidelines in preparation for the regional AND state festivals.
Refer to the adjudicator score sheet while preparing for the one-act festival.
School theatre programs wishing to participate in the regional Drama Festivals must first complete a DramaFest Letter of Intent. The number of slots available for participants at each regional festival is limited and participation is allowed on a first come first serve basis. Schools are encouraged to submit their letters of Intent as early as possible. Submissions of Letters of Intent open on September 16, 2022.
A quirky video explaining what students and teachers can expect at the Drama Festival. (Please note in the guidelines the new "Go Line" rule that was instated in 2015)
Productions performed at regional festivals within the last 3 years. Please note that schools are not allowed to compete with productions that advance to the state festival for 3 years. Schools are also not allowed to compete with a performance of any production in their region for 3 years.
This post urges theatre organizations to use music wisely, making sure they have the legal right to use it in their productions. Please note that it is the individual school/theatre's responsibility to secure the appropriate licensing for any productions that they produce.