Mississippi Delta Tennessee Williams Festival Student Drama Competition
October 14
@
9:00 am
–
5:00 pm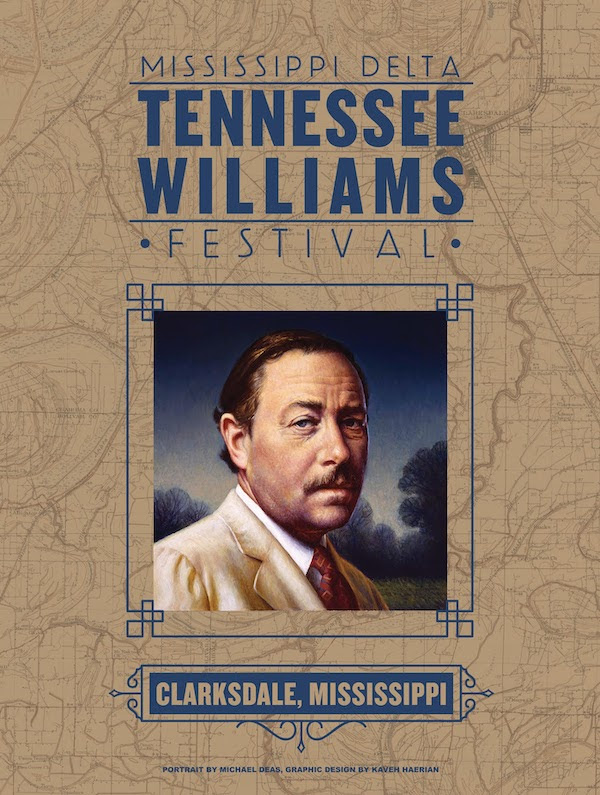 On behalf of the Mississippi Delta Tennessee Williams Festival (MDTWF) held every October in Clarksdale, Mississippi, you are invited to participate in our annual Student Drama Competition to be held on Saturday, October 14, 2023, starting at 9 am at the Coahoma County Higher Education Center/Cutrer Mansion, 109 Clark Street, Clarksdale.
We offer trophies to student winners and prize money to the winning theater programs.
This year, we have recruited Layla Young of Storyworks Theater Company (https://www.storyworkstheater.org/who-we-are) to serve as our coordinator for the Student Drama Competition. We would love for your school theatre program to participate this year.
For 31 years now, our festival has celebrated the life, work, and legacy of one of the greatest American playwrights of all time, Tennessee Williams.
Williams was connected to Clarksdale through his maternal grandparents, the Rev. and Mrs. Walter E. Dakin, and spent his summers here as a child. In his memoirs, he wrote that his grandparents were "the source of the greatest support and kindness" to him. His affection for them is reflected in his frequent references to Clarksdale and the MS Delta throughout his works.
During our festival, we bring together professional actors, Williams scholars, English/Humanities experts, students from around the State, and Williams enthusiasts from around the world. We strive to offer our visitors a weekend filled with learning, sharing, and fun.
We are also pleased to share that our festival is always free and open to the public. The dates for the 31st Annual MS Delta Tennessee Williams Festival are October 12-14, Thursday through Saturday. This year, we are focusing on the film Baby Doll and the two plays that inspired it: The Unsatisfactory Supper and Twenty-seven Wagons Full of Cotton.
Our goal is for the Student Drama Competition to be a mostly in-person event, but we are considering a virtual option for those schools that cannot make the journey to Clarksdale. Let us know if that is something you are interested in.
Read our latest Invitation to Participate.
The Intent to Participate & Registration Forms can be found HERE. The Intent to Participate form is due back to us on September 15, 2023 and the Registration is due back on September 29, 2023.
The material performed must be from a Tennessee Williams play (full-length or one-act). Students are judged on acting ability, movement, voice (such as how audible and articulate they are), memorization and stage presence. The form and this letter should give you all of the information that you need to know to participate, but feel free to reach out to me if you need any additional information.
In closing, please know that we have a wonderful and impactful weekend planned that I know you will enjoy; however, we do not have our schedule posted yet. We are still finalizing the details and hope to have it up on our website by September 1st. To receive email updates and see additional information on festivals past, go to our festival website, https://deltawilliamsfestival.com/.
Thank you for all the work that you do every single day for students around the great State of Mississippi. I look forward to hearing from you soon.
Very best regards,
Jen Waller, Director